Gratitude, Mindfulness, and Optimism Worksheets
Is 'happiness' something that we can create or is it something we are born with? Can we actually change our happiness in a lasting way? There are simple, empirically-validated practices that you can add to your daily life that can boost your mental and emotional well-being and help you find greater happiness and purpose.

Jonah Paquette, PsyD shares three free worksheets with exercises that can develop some of the key skills for finding happiness every day: Mindfulness, Gratitude, and Optimism.
Simply enter your email address below to get access...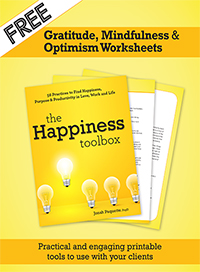 Access the FREE worksheets now!
By signing up, you'll be included in our mailing list and be the first to hear about exclusive CPD offers and FREE resources from the best therapists in the world!