Trauma Treatment Guide
Brain-Changing Tip, Tools & Handouts to Move Therapy Forward
Facilitate post-trauma recovery with the following guide. Each tool includes a shortlist of the post-trauma symptoms it treats, relevant research findings, a written description of the tool, and tips for clinicians regarding how the tool is best used.
Simply enter your email address below...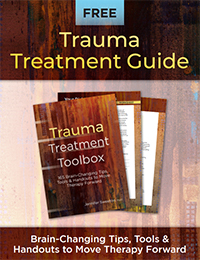 Access the FREE worksheets now!
By signing up, you'll be included in our mailing list and be the first to hear about exclusive CPD offers and FREE resources from the best therapists in the world!