No clinician wants to offend their client... but all too often, cultural misunderstandings hinder healthy interactions, either through unintentional offenses or the avoidance of issues. And if you lose your client's trust, you also lose your opportunity to bring them to a therapeutic breakthrough.

It's time to become more culturally competent so you can create positive clinical changes and feel confident in your ability to guide clients from any culture, to therapeutic success.

Join Lambers Fisher, MS, LMFT, MDIV, in this engaging online course that explores issues of ethnicity, age, gender, sexuality, religion, acculturation, and social justice through case studies and experiential exercises. You'll gain new, practical strategies you can use immediately to increase your multicultural competence, build rapport with diverse clients and adapt treatments for specific groups.

Plus, this revolutionary course can help fulfill your ethics and cultural competency CPD requirements!
Here's what you'll learn in this transformational online course
Multicultural Awareness & Diversity: Powerful Strategies to Advance Client Rapport & Cultural Competence
Module 1: Relevance & Research: Why Increase Cultural Competence
Why do you need cultural competence for therapeutic success? In module one, you will explore the implications behind cultural ignorance and identity development models. Key areas of focus include:
Why should you increase cultural competence
Non-optional professional expectations
Cultural influences on assessments and treatment planning
Developmental theories of multicultural competence and clinicians
Overcoming limitations in the workplace associated to diversity training
Module 2: A Perspective on Diversity
Many clients feel oppressed or misunderstood, avoid counseling, or leave counseling early due to cultural misunderstandings. This module breaks down the changing statistics on ethnicity, age and sexuality. You'll also get in-depth examples of micro-aggressions you should avoid. Topics include:
Changing population and what this means for your practice
Cultural genograms and common cultural considerations
Cultural self-assessments for clinicians and how your results are affecting your clients
Commonly misunderstood vocabulary: terms of reference, racism and stereotypes
Acknowledging micro-aggressions to overcome them
Module 3: A Perspective on Multicultural Competence
Knowledge without the awareness of how to apply it into practice is essentially useless. In module 3, you'll learn...
What is multicultural competence and why does it matter
A guiding perspective to cultural competence for clinicians
Variations of healthy acculturation
Module 4: Clinical Strategies
Further building on your awareness and broadened scope of cultural competence, this section moves into practical strategies for implementing into your practice to use with your clients.
Strategies to build relationships and connections

A client-centered approach to cultural competence
Addressing therapists' fears
The pros and cons of cultural self-disclosure
DSM-5: assessment & diagnosis
Addressing micro-aggressions, transference and countertransference
Learning outside of therapy sessions
Therapist authority and learning from clients
Empathizing and navigating sensitive social issues
Module 5: Common Experiences & Non-Exhaustive Cultural Misunderstandings
Continuing with application strategies, module 5 describes some common misunderstandings and misconsiderations based on a variety of groups. You will also walk through...
Common ethnic group characteristics
Working with multi-ethnic families
Working with limited English proficiency and bi/multilingual clients
Cultural post-assessment to address what you can improve
Addressing gender, age, religion, and more
Enroll today and you'll also get this FREE bonus!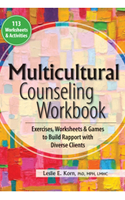 Multicultural Counseling Workbook Exercises, Worksheets & Games to Build Rapport with Diverse Clients
by Leslie Korn, PH.D., MPH, LMHC
Cultural competency begins with knowing who you are. Interactive, engaging and fun -- this workbook is filled with valuable exercises, worksheet, games and clinical strategies to help you become more culturally competent. Use this powerful tool to explore cultural communities, religion, spirituality, gender, sexuality and disability. You'll find unique activities to help you reflect on your own attitudes, prejudices, and develop new skills for working with and building rapport with diverse clients.
Group Discussion Questions
Client Worksheets
Multimedia Resources
Strategies for Client Engagement
Mindfulness & Meditation Activities
Therapist Worksheets, Exercises and Case Vignettes
Get to Know Your Speaker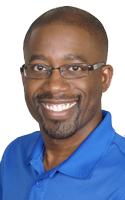 Lambers Fisher, MS, LMFT, MDIV, is a marriage and family therapist who has counseled individuals, couples, and families from a variety of cultural backgrounds, in private practice, non-profit organization, as well as ministry environments. He has a strong desire to help counseling professionals in various fields feel more comfortable, competent and confident in their ability meet the needs of whomever they have the opportunity to serve. Lambers' training experience includes facilitating workshops, guest lecturing, as well as being an adjunct instructor at Crown College on various aspects of diversity in counseling. Lambers supervises aspiring therapists as a board approved supervisor for the Minnesota Board of Marriage & Family Therapists as well as the Minnesota Board of Behavioral Health.

Currently, Lambers is a therapist in private practice where he effectively balances personal and professional experiences to provide unique and practical perspectives on a variety of culturally sensitive topics. He obtained a Master of Science in Marriage & Family Therapy as well as a Master of Divinity from Fuller Theological Seminary in Pasadena, CA.

Learn more about Lambers Fisher.
Your colleagues are raving about your speaker...
"Absolutely wonderful, he is a skilled, knowledgeable presenter. I'll be looking for more courses taught by him."
"Lambers was an excellent instructor - lively, genuine, with vivid clear examples of application often missing in other trainings like this. Rich, hopeful and inspiring."
"I felt that Lambers was a very effective presenter and his use of language was very effective. I appreciated his approach to confrontation and to addressing the sometimes tension-filled moments relating to multicultural mistakes and ignorance."
"Animated, personable, and passionate presenter. Informative and highly useful materials presented."
100% Satisfaction Guarantee
If you're not completely satisfied, please email us at
courses@pesi.com
. We're that confident that you'll find this learning experience to be all that's promised and more than you expected.
Learning that Fits YOUR Schedule:

Watch your email for an order confirmation with the account access link to get started on materials instantly. View any of the video modules at your convenience with immediate entry into the online portal. You'll have unlimited access to all the materials, plus you can download everything to keep for future reference! Access all course videos and materials online forever. Plus, use the CE21 Mobile™ app to access the course content on-the-go, wherever and whenever you want on your mobile devices.
Click here for course objectives and outline

Interact and collaborate with other professionals in the online community through chat boards and online forums. Participants love sharing ideas, asking questions and networking with other practitioners!

Complete your CPD tests online at the completion of each module, with instant access to your CPD certificates - earn up to 6.25 CPD hours.
Continuing Professional Development Certificates:
PsychOz Publications, in collaboration with PESI in the USA, offers quality online continuing professional development events from the leaders in the field at a standard recognised by professional associations including psychology, social work, occupational therapy, alcohol and drug professionals, counselling and psychotherapy. On completion of the training, a Professional Development Certificate is issued after the individual has answered and submitted a quiz and course evaluation.