Emotionally Focused Therapy with Dr. Sue Johnson: On Target Couple Interventions in the Age of Attachment
Why Emotionally Focused Therapy?



Emotionally focused therapy

(EFT) harnesses the new science of love and relationships into a structured, on-target, effective roadmap we can follow to take couples from disaster to safety and emotional connection.

We are able to not only heal relationships, but to create relationships that heal.

For the first time in human history, we know why relationships matter so much, what goes wrong with them, and what's necessary for people to create secure, lasting bonds.

But you might be saying, "Sure, you can show me the studies proving that EFT works. But can you show me how to do it?"

The answer is a resounding YES!



I can show you how you AND your clients can leave each session exhilarated and energized.



In EFT we have shown that we can help 70-75% of couples move into more satisfying and secure bonds. And in this course, I will show you how you can get these kinds of results in your office.

Hope to see you in the course,
Dr. Sue Johnson

"There's nothing more fascinating than relationships, and as you go into them, they just get more and more and more fascinating. Every couple I see teaches me something. I'm still as fascinated now as I was all those years ago."
- Dr. Sue Johnson
Here's everything covered in this in-depth training: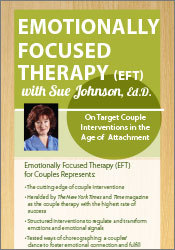 Modules 1 and 2:
Emotionally Focused Therapy
On Target Couple Interventions in the Age of Attachment Stage I Live Session — De-escalation
Dr. Johnson will walk you step-by-step through the EFT model stages and steps. This structured approach will ensure you know that you are using the right intervention at the right time!
The State of Couple Therapy and the New Science of Attachment
Emotionally Focused Therapy (EFT) — the Structure, Moves and Interventions
Experiential and Systemic Interventions
The Tasks of EFT — Outline, Video Viewing, and Exercises
Dealing with Difficult and Attachment Injured Clients — Discussion and Exercises
Discussion of the New Era of Couple Therapy
---
Modules 3:
Shaping Secure Connection with EFT
Stage I In-session Demonstration — De-escalation
Explore Stage 1 of EFT with Dr. Sue Johnson and colleague Dr. Marlene Best during this in-session demonstration. Watch as they outline the negative cycle/dance that keeps their clients off balance and disconnected. You'll then see how they help their clients access and reprocess underlying emotions, especially attachment fears, which prime each partner's steps in their negative dance. Finally, you'll watch as the couple de-escalates their negative cycles and begin to create a secure base, preparing them for Stage II of EFT – Restructuring of Bonding Interactions.
Following the client in-session demonstration, Drs. Johnson and Best will discuss and analyze the session helping you understand how to apply EFT to your practice.
---
---
Enroll today and you'll get these
FREE BONUS CPD SEMINARS

— A $169.96 Value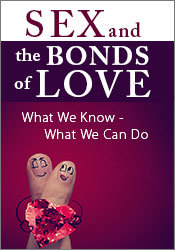 Sex and the Bonds of Love: What We Know — What We Can Do
Attachment interactions and emotions shape sexual responses
Intervention in an attachment oriented couple therapy addresses sexual problems
The creation of a safe haven fosters open responsiveness in sexuality
---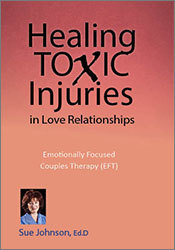 Healing Toxic Injuries in Love Relationships
Identify and understand attachment injuries and their impact
Learn how the EFT forgiveness model fits into the overall structure of therapy
Outline the specific steps in this model and the interventions used by the therapist
---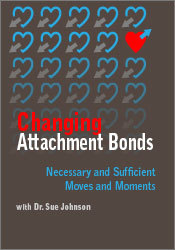 Changing Attachment Bonds: Necessary and Sufficient Moves and Moments
This workshop will focus on how the EFT therapist creates:
Safe haven sessions that foster exploration of emotion and interaction
Shifts that de-escalate negative patterns and regulate attachment emotions
The coherent integration of new, more primary emotions
Interactions characterized by new ways of reaching for the partner
---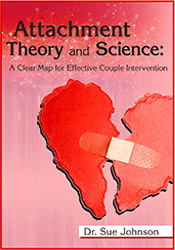 Attachment Theory and Science: A Clear Map for Effective Couple Intervention
Outline the core principles of attachment theory
Clarify the revolutionary significance of attachment theory and research for relationship repair
Illustrate how EFT uses this perspective to change a move a couple from despair to satisfaction
About the Course Experts:
Susan Johnson, Ed.D., is the best selling author, clinical psychologist, distinguished research professor, dynamic speaker, and recognized innovator who has changed the field of couple therapy. She is director of the International Center for Excellence in Emotionally Focused Therapy and distinguished research professor at Alliant University in San Diego, California, as well as professor of clinical psychology at the University of Ottawa, Canada. She trains counselors in EFT worldwide and is recognized as one of the most prominent researchers and presenters in the couple therapy field.
Speaker Disclosures: Financial: Susan Johnson receives compensation as a tenured professor for the University of Ottawa. She receives royalties as an author for Little Brown, ICEEFT, Brunner Routledge, and Guilford Press. Dr. Johnson receives a speaking honorarium from PESI, Inc. Non-financial: Susan Johnson has no relevant non-financial relationship to disclose.
Learning that Fits YOUR Schedule:
Watch your email for your order confirmation
, and get instant access the
comprehensive training
plus the FREE bonus materials, all designed to help you effectively integrate proven treatment strategies into your practice. Review all the course materials at your own pace and at your convenience!
Click here for course objectives and outline
.
Access all course videos and materials online forever, or download the videos and materials to your personal library. Plus, use the CE21 Mobile™ app to access the course content on-the-go, wherever and whenever you want on your mobile devices.
Instantly collaborate with other professionals on the course materials through interactive message boards. You'll be part of a community of hundreds of practitioners all focused on creating relationships that heal, providing valuable opportunities to share insight and experiences and to build your professional network.
Complete your online CPD tests and earn up to 13 CPD Hours!
Continuing Professional Development Certificates:
PsychOz Publications, in collaboration with PESI in the USA, offers quality online continuing professional development events from the leaders in the field at a standard recognised by professional associations including psychology, social work, occupational therapy, alcohol and drug professionals, counselling and psychotherapy. On completion of the training, a Professional Development Certificate is issued after the individual has answered and submitted a quiz and course evaluation.
100% Satisfaction Guarantee
Register for this comprehensive training course without risk. If you're not completely satisfied, email us at courses@pesi.com. We're that confident that you'll find this learning experience to be all that's promised and more than you expected.
---