This revolutionary new framework helps your clients transform the "shame cycles" of bingeing and dieting, emotional overeating, and negative body image into a nourishing and satisfying relationship with food and their bodies—for good!
"I'm too fat." "I'm on a diet." "Today is a cheat day." "Once I lose weight, I'll be happier." "My eating is out of control."
This kind of language runs rampant in our society because the diet culture constantly tells us that thinner bodies are the most desirable and that certain foods and ways of eating are "good," while others are "bad" …
Our culture shames millions of men, women, boys, and girls into an unhealthy—and often abusive—relationship with food and their bodies.
Your clients who struggle with weight and food issues get caught in a vortex of shame, preoccupation, and hopelessness. Trapped between the rigidity of dieting and the chaos of overeating,
every day can be an emotional battle
that may result in low self-worth, eating disorders, anxiety or depression.
Help Your Clients Break the Chains of Diet Culture
It's clear we need a new way forward through the devastating and all-too-common problems caused by diet culture…
Up until now, there's been a shortage of good information about effective methods!
But now there's a new framework you can use with your clients that is effective in transforming the diet shame into empowerment... ending out of control eating for good.
Best-selling author and psychodynamic therapist Judith Matz, LCSW will teach you this proven framework...
Equipping you with treatment strategies and tools to help your clients challenge unhelpful thoughts and feelings, repair dysfunctional relationships with food, and improve their overall health.
Emotional Eating, Chronic Dieting, Bingeing and Body Image:
What Every Clinician Needs to Know

$238.65 Value
Just $149.95 (GST Inclusive) Today— Unbelievable Savings!
Plus, earn up to 6.25 CPD Hours included in the course tuition.
This groundbreaking online course gives you cutting-edge, research-based information on disordered eating and diet culture… so you can help your clients transform their relationship with food and their bodies from one of shame, restriction, and fear into one of ease, comfort, confidence, and nourishing satisfaction.
Here's What's Included in the Course
This comprehensive online course on Emotional Eating, Chronic Dieting, Bingeing and Body Image is broken down into two modules. Through step-by-step instruction, you'll discover:
3 crucial questions to ask at intake
The differences between Binge Eating Disorder (BED), emotional overeating and disordered eating
Subclinical disordered eating patterns
Why dieting doesn't work
How to handle shame around food and body size
Why weight loss is NOT the answer
Moving Clients from Shame to Empowerment: Treatment Strategies that Work
Cognitive Behavioral Therapy (CBT)
Mindfulness practices
Self-compassion skills
Attuned eating
The Health at Every Size (HAES) approach
How therapists may inadvertently contribute to fat shaming
Considerations regarding individual vs. group therapy
Limitations of the research and potential risks
Through these modules Judith Matz, LCSW, will help you master the skills to:
Identify issues related to food, weight, and body image from your first session
Understand why clients get stuck in the diet-binge cycle and how to finally break it
Engage, support, and help your clients repair their dysfunctional relationship with food and their bodies—no willpower necessary!
Help your clients respond to well-meaning—yet harmful—weight loss "compliments"
Discover your own hidden biases and ingrained cultural stereotypes about weight that could negatively impact your clients' treatment
Share simple mindfulness practices that can help reduce emotional eating
Determine if individual or group therapy would best serve your clients
Help clients develop a healthy framework that ends out-of-control eating without being beholden to fad diets and self-punishment
And SO much more!
You'll also receive access to essential tools such as:
Hunger Fullness Scale: Helps to identify the physical cues of hunger and satiation
Hunger Matching List: Identifies the kinds of tastes and textures you're craving so you can choose the foods that will satisfy your needs in that moment
Patient assessment form: Determine if your clients and patients have a Binge Eating Disorder (BED) or emotional overeating problem
AIM Protocol: This handy acronym aids patients in eating intuitively so they can nourish their body and soul
Writing prompts to help you and your patients truly understand your relationship to food, dieting, and body image
Self-assessments to help you uncover and transform any subconscious/unrealized biases you may have toward higher-weight people—including your clients and patients—so you can better serve them
A paradigm-shifting framework that takes the focus off weight loss and shifts it to developing a healthy relationship with food. When this happens, weight loss is often a side effect, but it's not the goal.
Having
these tools in your toolbox gives you an edge over other therapists
still using outdated—and ineffective—methods to help their clients…
...And will
help your clients develop a positive relationship with food and their bodies FASTER and EASIER than you ever thought possible
.
When you order this online course, you'll have unlimited, lifetime access to the videos, forums and materials... 24 hours a day, 7 days a week, forever.
Bonus! FREE eBook ($16.99 Value)
Soothe: Your Mind-Body-Spirit Guide for Dealing with Crappy Emotions by Heidi Kopacek
When it comes to emotional health, we're all busting our backsides trying to make ourselves feel better. We channel positive thoughts, walk 10,000 steps, say what we're grateful for, search for our passion, buy an expensive juicer, and finally, in a fit of exhaustion, we turn to the comfort of eating, drinking, scrolling social media, and anything else that gives a little instant relief.
In
Soothe: Your Mind-Body-Spirit Guide for Dealing with Crappy Emotions
, clinical psychologist and basically your new best friend, Dr. Heidi Kopacek, gives you a holistic approach to de-frazzling from 21st century stress and negativity. In this hilarious, practical and yet fiercely honest book, learn once and for all:
What emotions really are, where they come from, and why we have so many crappy ones
New and innovative ideas for soothing tension in the body, and quieting the anxious mind
The best how-to's for breathing, meditation, self-care, and compassion (without any woo-woo jargon you can't understand)
Powerful, but easy-to-implement techniques for awaking your deeper human spirit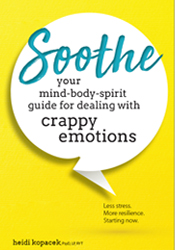 "The content was a relevant paradigm shift with realistic and applicable approaches. The interventions will be utilized—I cannot wait to employ them with my clients. Thank you!"
– Rachel, Social Worker
Emotional Eating, Chronic Dieting, Bingeing and Body Image
What Every Clinician Needs to Know

$238.65 Value
Just $149.95 (GST Inclusive) Today — Unbelievable Savings!
Amazing Results!
"Faculty presenter was excellent, with varied examples and relevant use of technology "
—Lucy B.
Amazing Results!
"Judith was an engaging presenter and her depth of knowledge was evident. Found the whole course highly useful "
—Sally M.
Amazing Results!
"Really charismatic speaker. Intend to use some of the materials with tonight's clients!!!"
—Mary S.
Amazing Results!
"Excellent information!"
—Christopher O.
The Next Steps in Advancing Your Practice
Watch your email for your order confirmation
, and get instant access to all course materials, including the bonus materials — all designed to help you effectively transform your client's "shame cycles" of bingeing and dieting, emotional overeating and negative body image into a nourishing and satisfying relationship with food and their bodies—for good!
Click here for course objectives and outline
.
Review the course materials at your own pace and at your convenience! You'll have unlimited access to all course videos and materials online forever. Plus, use the PESI Mobile™ app to access the course content on-the-go, wherever and whenever you want on your mobile devices.
Instantly collaborate with other professionals on the course materials through interactive message boards. You'll be part of a community of hundreds of practitioners all focused on integrating the issues related to food, weight and body image in clinical practice, providing valuable opportunities to share insight and experiences and to build your professional network.
Complete your online CPD tests and earn up to 6.25 CPD hours!
Continuing Professional Development Certificates
PsychOz Publications, in collaboration with PESI in the USA, offers quality online continuing professional development events from the leaders in the field at a standard recognised by professional associations including psychology, social work, occupational therapy, alcohol and drug professionals, counselling and psychotherapy. On completion of the training, a Professional Development Certificate is issued after the individual has answered and submitted a quiz and course evaluation.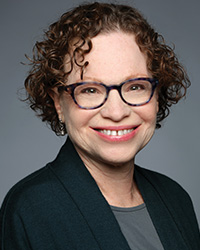 Judith Matz, LCSW, (Psychodynamic therapist) is the co-author of two books on the topics of eating and weight struggles. Beyond a Shadow of a Diet: The Comprehensive Guide to Treating Binge Eating Disorder, Compulsive Eating and Emotional Overeating has been called "the new bible" on this topic for professionals.

The Diet Survivor's Handbook: 60 Lessons in Eating, Acceptance and Self-Care was a #1 bestseller on Amazon and a favorite resource for therapists to use with clients. She is also the author of Amanda's Big Dream, a children's book that helps kids to pursue their dreams – at any size!

Judith has a private practice in Skokie, IL, where she focuses her work with clients who want to get off the diet/binge rollercoaster and learn to feel at home in their bodies. Through her individual counseling, groups, workshops, presentations and books, Judith has helped thousands of people to develop self-care skills that increase physical, emotional and spiritual wellbeing without a focus on the pursuit of weight loss.

Through educational programs, she is dedicated to helping people end the preoccupation with food and weight. Judith received her MSW at University of Michigan and earned her post-graduate certificate at Michael Reese Hospital in Chicago, where she trained in the treatment of eating disorders.

Judith is a frequent contributor to the Psychotherapy Networker magazine and a popular speaker at national conferences. Descriptions of her work have appeared in the media including the New York Times, LA Times, Allure, Fitness, Self, Shape, Today's Dietitian, Diabetes Self-Management, NBC News Chicago, Huffington Post Live, and she appears in the documentary America The Beautiful 2.

Speaker Disclosure:
Financial: Judith Matz is in private practice. She receives a speaking honorarium from PESI, Inc.
Non-financial: Judith Matz is a member of the Association for Size Diversity and Health (ASDAH).
100% Satisfaction Guarantee
Register for this intensive training course without risk. If you're not completely satisfied, give us a call at
800-844-8260
. We're that confident you'll find this learning experience to be all that's promised and more than you expected.
Emotional Eating, Chronic Dieting, Bingeing and Body Image
What Every Clinician Needs to Know

$238.65 Value
Just $149.95 (GST Inclusive) Today — Unbelievable Savings!
Plus, earn up to 6.25 CPD Hours included in the course tuition.